Financial institutions are increasingly turning to technology, data analytics, and artificial intelligence (AI) to protect their customers. But even VVIPs' accounts aren't safe; know methods used by hackers and how to prevent it.
Hackers have been using different methods to steal information from VVIPs' accounts. These methods might be used by hackers in order to steal personal or financial information. There are many ways to prevent these hacks.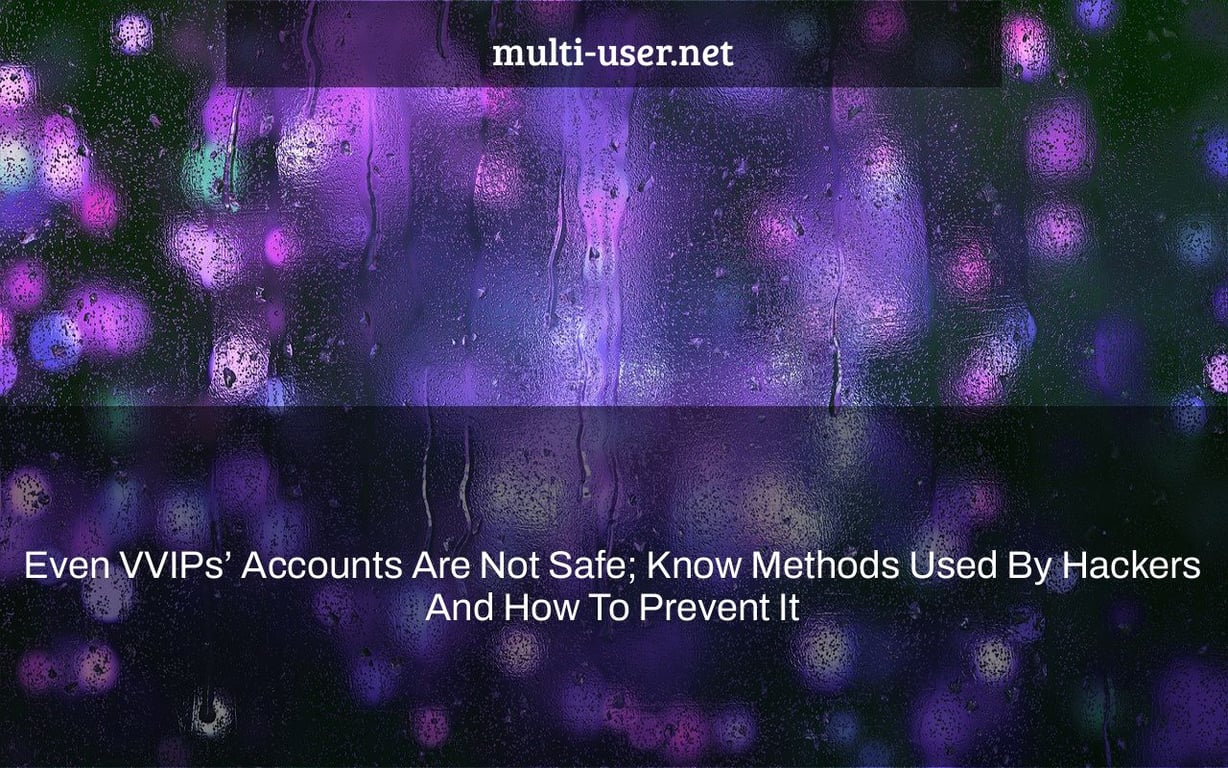 It's Possible That You're Interested In
Hackers have targeted the Twitter accounts of well-known people throughout the world. Prime Minister Narendra Modi's Twitter account was recently hacked. Following that, the hijacked account tweeted a pro-Bitcoin message. This isn't the first time a significant person's account has been stolen. In July 2020, the Twitter accounts of Prime Minister Modi, Joe Biden, Barack Obama, Bill Gates, and Elon Musk were also hacked.
You can imagine your account being hacked if these people's social media accounts were hacked. Despite the fact that internet companies make enormous promises about its safety, these guarantees are only lip service.
The issue now is, how do these accounts get hacked? Why have so many security measures, such as two-step verification and OTP login, failed to keep the account safe?
Hackers take advantage of two faults made by social media users, according to cyber security experts.
Users of social media sites such as Facebook, Instagram, Twitter, LinkedIn, and others utilize these digital platforms to engage with others on a social and professional level.
If there is any type of technological flaw in the use of social media, hackers will take advantage of it. It's a software flaw, usually in the operating system, that allows an attacker to take control of the machine. Despite the fact that social media businesses employ a skilled technical staff, hackers are still able to exploit technological flaws.
Read more: Is India Prepared To Deal With Cyber-Attacks On Critical Infrastructure?
Hackers may use this to steal people's identities in a variety of ways. It may be interpreted in such a manner that hackers can phone or message you with phishing links. You may go to a site that looks like Facebook or Twitter as soon as you click on this link. They will request that you log in. If you use this link to log in, hackers will be able to obtain your user ID and password. They just get your account's credentials. Hackers may request an OTP in the name of modifying the privacy setting.
Hacking techniques:
Using Phishing Links and a Phishing Page
By gaining database access via hacking
Because of poor password management.
Hacking a user's account and email address.
Cookie or cache hacking is a kind of hacking that involves the use of cookies or cache.
Due to OTP, there was a hacking attempt.
Hacking using graphics as a tool.
Hacking on a public Wi-Fi network.
Posting personal information on the internet is a kind of hacking.
Due to a lack of security settings, there was a hacking attempt.
How can you find out whether there has been any hacking activity?
You can verify whether or not your social media accounts, such as Facebook and Twitter, have been hacked by following a few simple steps. You'll acquire all the data of the device's login as well as the account's history if you follow these instructions. Here are several symptoms that you've been hacked.
If any of your friends are banned, unfriended, or you have unknowingly followed or unfollowed someone.
If you're seeing postings that you haven't made, it's because you haven't done them yet.
If you're having trouble logging in, please contact us.
If you accidentally send a message from your account to someone you don't know.
If you are receiving alerts from a new game or app, this is a good sign.
Safety precautions include:
It is more vital for consumers to stay vigilant in order to prevent being hacked. Here are some suggestions for keeping your account secure.
Don't give out the passwords to your social media accounts to anybody.
If someone contacts your phone from an unknown number and asks for your OTP, don't give it to them.
Be wary of phishing links. Only click on a link that seems to be genuine.
Create a strong password and keep it up to date.
Maintain Two-Factor Authentication
Delete the history from your browser.
Make a variety of email addresses.
Make use of an anti-virus application.
Do not utilize the option to remember your password.
For each account, use a different password.
Avoid using public Wi-Fi.
When using an internet café, avoid logging in.
Furthermore, social media companies should have their programs checked and reviewed by IT specialists on a regular basis.
Also see: What Is FLUBOT Malware and How Does It Affect Mobile Devices? What are your options for dealing with this?
Watch This Video-
The "how to protect yourself from hackers 2020" is a blog post that discusses the ways in which hackers have been able to gain access to even the most secure of accounts. This includes methods such as phishing, social engineering and brute force attacks.
Frequently Asked Questions
What are 4 ways you can protect yourself from getting hacked?
A:
In order to protect yourself from getting hacked, you need a software engineer who has experience in developing and using cryptography. You also have the option of not having your credit card information saved on your device at all if possible, as this is one of the biggest ways hackers can steal it.
Additionally, you should make sure that any passwords for websites are encrypted with an algorithm like password-1password or encrpyted waspwetrust.
Which methods are used by hackers?
A: There are a number of methods hackers use including keyloggers, phishing scams, and viruses.
What can companies do to prevent hackers?
A: Companies can take steps to prevent hackers from hacking their system. This is usually done by requiring a password in order for the user to have access, or installing software that prevents the hacker from accessing it.
Related Tags
what are the steps to avoid getting hacked
write down the steps to protect your password from being hacked
how to avoid getting hacked on social media
how to stop hackers on your phone
how to protect your computer from hackers and viruses